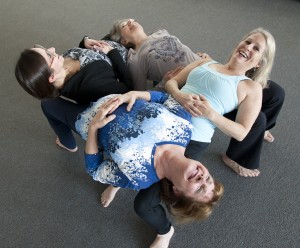 Lending Library
The yoga instructors at the Morton Center have established a lending library of materials that students may be interested in. The library is located in the classroom and if you are interested in checking out the materials in the library, please ask your instructor for details.
Class Policies
• Make-Ups are encouraged. If you miss a class, you may make it up within the current session at one of the other regular classes. You may attend any of the current yoga classes offered. Check with the instructor of the class you wish to attend for space availability. Guests under age 13 need instructor permission to attend.
• Show consideration for the other students. Should you be late please come in quietly. Should you have to leave early please leave before final relaxation (approximately the last ten minutes of class.) Turn off cell phones.
• Yoga should not be practiced on a full stomach.
• Wear layers and be able to have bare feet.
• Yoga is not competitive. Be patient and compassionate with yourself.
Class Registration
Registration for all Yoga Balance classes is easy! Classes are held at the Morton Community Center, part of West Lafayette Parks and Recreation. All registrations are done through West Lafayette Parks and Recreation. Call (765) 775-5120 for more information. Mail-in registrations are given first priority each session.
We recommend that beginning students register for a session of classes, since the class is progressive.  Experienced students may attend classes on a drop in basis at a rate of $15/class.